Our dog bed is a real paradise for both dog and cat. Available in many sizes and shapes, you are sure to find the perfect place for your pet among them. Choose a sofa-shaped bed that allows your pet to snuggle in and feel secure. Designed with comfort and safety in mind, it will create an oasis of calm for your pet. For your pets, we offer a pet bed - a cushion, made of waterproof materials, ideal for resting after an active day. We manufacture beds for dogs and cats . We have a full range of designs created with our pets in mind. From cushions in many shapes and designs, to sofas. We design beds for those little dogs and cats, not forgetting the big dogs. We make our beds from the highest quality certified, approved components and tested, durable fabrics, from waterproof to plush. Our beds are made with complete accuracy and care.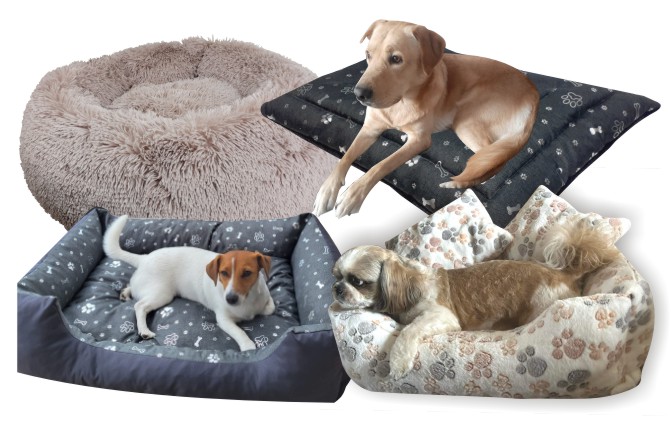 Cosy and sturdy - SHAGGY LUX bed
Every dog and cat deserves a bed that is as luxurious as it is comfortable. That is why we present the SHAGGY LUX bed. Made of an extremely pleasant material with long hair, it provides a soft, pleasant wrapping that smaller and medium-sized dogs and cats love. But SHAGGY LUX is not only about comfort. On the underside of the bed is a special dotted rubber coating that prevents the bed from sliding. This is an extremely durable solution that will work well even in the most active home.
Easy to clean and safe - Oeko-Tex
We believe that a bed should be easy to keep clean. That's why our entire bed is completely removable. The sides and bottom can be easily removed and the cover can be completely pulled off and washed in the washing machine, at up to 30 degrees Celsius. But that's not all. The fabrics and materials we use to manufacture our beds are Oeko-Tex certified. This is a guarantee that the products are free of substances that are harmful and dangerous to your pet's health. With our bedding, you can be sure that you are offering your pet the very best.